The Malay are the aboriginal inhabitants of the island city and have roots throughout Southeast Asia. Hence, the cuisine of the Malays can be found spread across various countries, including Malaysia, Brunei, Indonesia and Thailand. Whether the various Malay food dishes introduced on the list were invented in Singapore?
We cannot say for sure, but all that matters is that you know where to go to get the best flavours in Singapore.
The main characteristic of Malay cuisine is the generous usage of spices, coconut milk, belachan (shrimp paste) and sambal (chilli condiment made from shrimp paste and other spices). 
Rice is an everyday staple, and it is known as "nasi"' in Bahasa Melayu, or Malay language. 
While there are a never-ending array of different Malay foods to discover, we have come up with a list of the top 5 Malay dishes you MUST try when in Singapore.
Local Malay Food Favourites – Beyond Heavenly
Nasi Lemak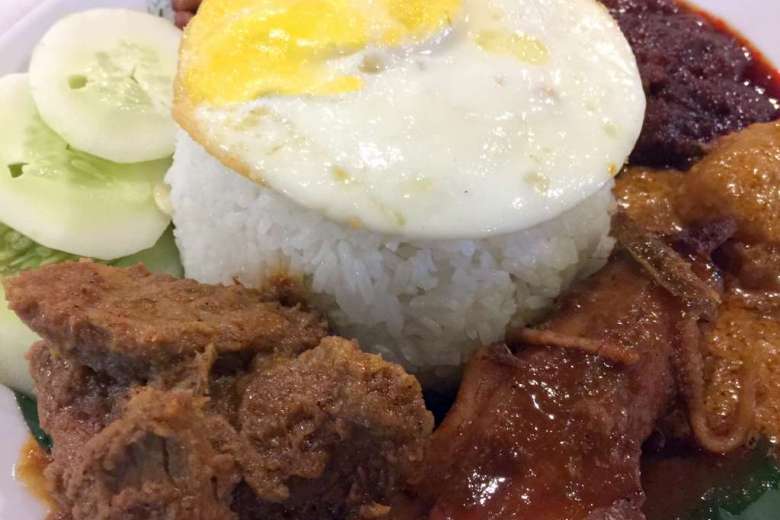 Directly translated as "fatty rice", the fragrant rice dish is usually served with a side of fried anchovies (ikan billis), cucumber slices, roasted peanuts and sambal chilli. 
Luxurious variants of the iconic Malay dish may include other proteins such as fried egg, chicken wing, and fish. 
Nasi lemak is often eaten in the morning as breakfast and can be found throughout Southeast Asia.
You have the option of ordering additional sides with favourites being begedil, a kind of fried potato patty and otah/otak-otak which is a grilled fish cake made of ground fish meat mixed with tapioca starch and spices.
In Singapore, we recommend Mizzy's Corner at Changi Village Hawker Centre as one of the best nasi lemak you can find in the country.
Our recommendation:
Mizzy's Corner
Location: 2 Changi Village Rd, #01-26, Singapore 500002
Mee Rebus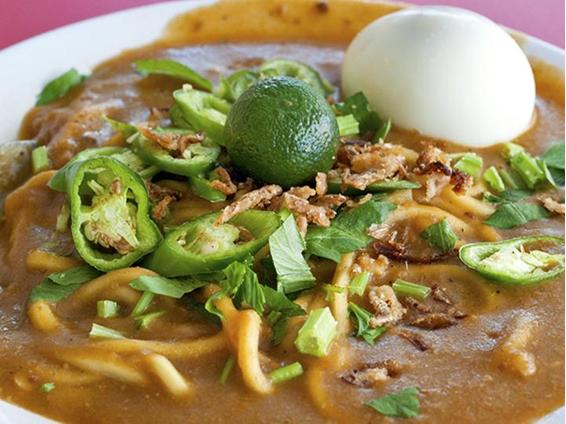 Mee Rebus means "boiled noodles" and is made of yellow egg noodles with a spicy-sweet curry sauce similar to Japanese curry. 
Various condiments, usually green and sambal chilli, are sprinkled atop the noodle dish to give additional flavours. 
Eggs and shredded chicken are also used as a protein and to make the dish more substantial. 
Our recommendation is Inspirasi at Bedok interchange Hawker Center to get a taste of this beautiful dish.
Our recommendation:
Inspirasi
Location: Bedok Interchange Hawker Center, Blk 208B New Upper Changi Road #01-11
Satay
Skewered meats seasoned with a myriad of different sauces and grilled to create that smoky indulgence, what's there not to like about satay? 
There are several kinds of satay ranging from different proteins such as chicken or mutton, each providing you with a different texture and flavour.
Satays are generally skewered on bamboo sticks or the midrib of the coconut palms and come in thin, easy-to-eat portions.
Moreover, satay stalls will generally serve ketupat (rice dumplings), fresh onions and cucumbers alongside your satay. 
While there are numerous satay stalls across Singapore, we recommend Lau Pat Sat Stall 7 & 8 for satay.
Our recommendation:
Lau Pat Sat 7 & 8
Location: 18 Raffles Quay, Singapore 048582
Laksa
While the laksa is more Peranakan than Chinese or Malay, this spicy noodle soup unites Singaporeans together as we tout it as a national dish. 
Laksa usually consists of noodles mixed with fish, prawn or chicken and served together with a creamy, spicy soup based on coconut or asam (tamarind). 
The asam version of the laksa presents a more clear soup which is sour and spicy, whereas the coconut version boasts a rich, creamy and spicy broth.
While laksa can be found across Southeast Asia, it remains a quintessential dish in Singapore with masterful hawkers serving it across the island.
Our recommendation:
328 Katong Laksa 
51 E Coast Rd, Singapore 428770
Curry Puff
An all-time favourite snack among locals, the curry puff is a small pie comprising chicken curry and potatoes enveloped in a deep-fried pastry shell. 
Alternatives exist which may include fish instead of chicken or other trendy flavours of the season.
We recommend Wang Wang Crispy Curry Puff at Old Airport Road for your curry puff fix, but there are so many different stalls, be it Chinese or Malay, selling curry puffs in Singapore.
You could also get one of these piping hot bad boys from Old Chang Kee, a large franchise chain in Singapore.
Our recommendation:
Wang Wang Crispy Curry Puff
Location: 51 Old Airport Rd, #01-126, Singapore 390051
That sums up our top 5 Malay foods you have to try when you are in Singapore. Malay food brings out the heart and soul of Singapore and our love for spices, so be sure to check them out!
Related to Malay Food in Singapore: