Are you planning a trip to Singapore? Are you inspired by the incredible food from Crazy Rich Asians? Want to eat like a local? Fret not – HowToSG is here to teach you how to navigate the food jungle of Singapore!
Singaporean cuisine
The food in Singapore is a fusion of the multiple cultures present in the country; Malay, Chinese, Indian and Eurasian.
While each of the different races presents various arrays of food, interracial marriages and cultural sharing have created new types of cuisines arising from the fusion between distinct flavours.
Examples include the Peranakan cuisine, which is a favourite among the locals.
As Singapore lies within the same straits as Malaysia and Indonesia, there are bound to be similar foods found throughout the region.
Depending on where you are, the locals will tell you that the food originated in that area.
Regardless of whether it is from Singapore, Malaysia or Indonesia, the most important thing is the taste.
Today, we will go through a list of favourite foods found in Singapore.
Local Chinese Favourites
Hainanese Chicken Rice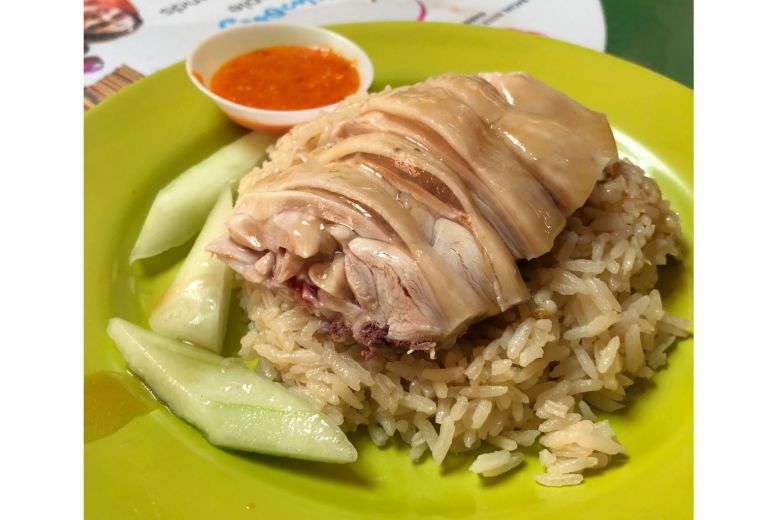 The Hainanese Chicken Rice was founded by Hainanese immigrants from Southern China who adapted the original Wenchang chicken into a style which was suitable for the locals.
Since then, the ultimate Chinese staple in Singapore has made it on the international stage. Chicken rice comes in many forms/colours; white(poached), roasted or soya sauce based.
The chicken is poached and prepared with a bowl of seasoned rice combined with a side of cucumbers and a unique chilli sauce.
Even Gordon Ramsay learnt how to prepare chicken rice when he visited the little red dot, so don't miss a chance to try it out when you arrive at the small red dot!
One of the most popular chicken rice can be found at Maxwell Food Center: Tian Tian Hainanese Chicken Rice.
Our recommendation:
Tian Tian Hainanese Chicken Rice
Location:1 Kadayanallur St, #01-10/11 Maxwell Food Centre, Singapore 069184
Carrot cake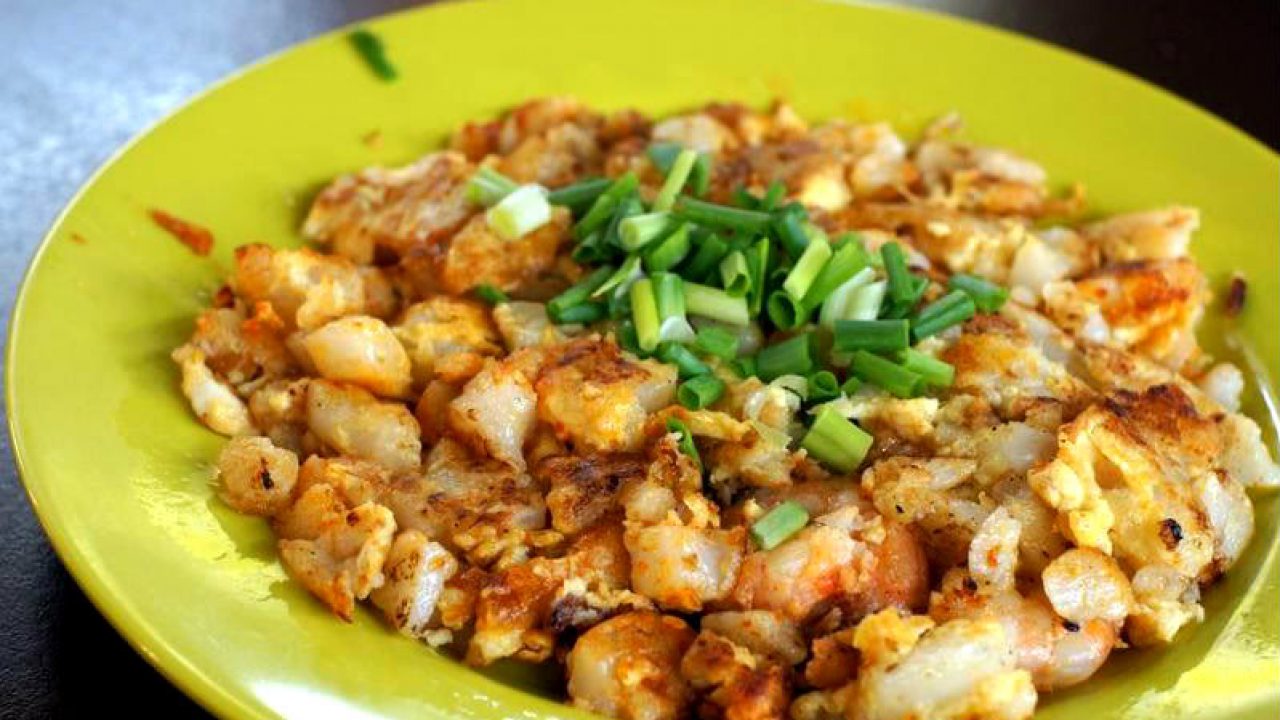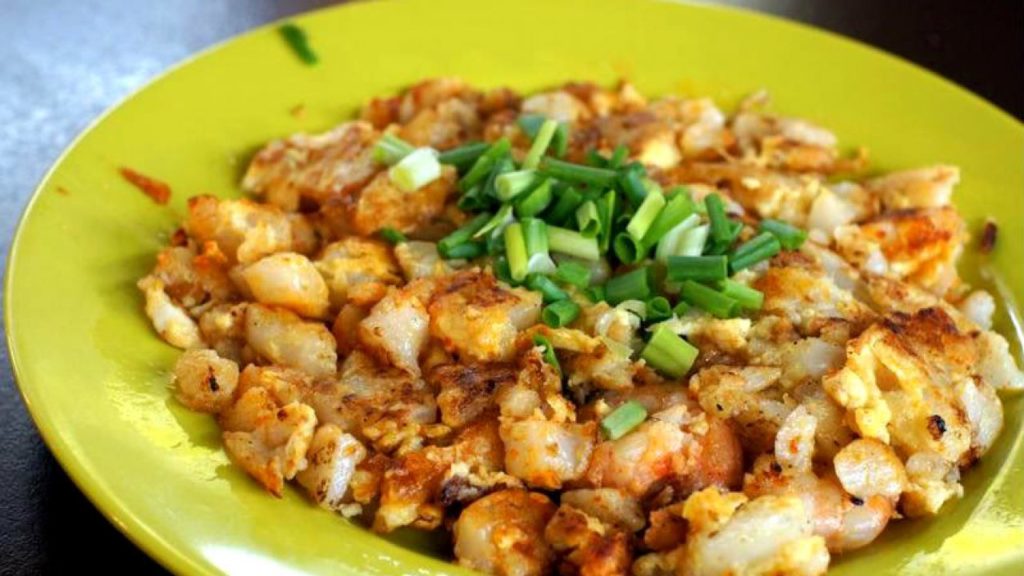 No, not the white cakes of Europe. The fried carrot cake (Chai Tow Kway in Teochew) is a different kind of cake which is savoury and has no carrot involved.
Instead, the fried carrot cake is made primarily with rice flour, white radish and eggs. Why is it called carrot cake? Nobody knows but all that matters is that it is absolutely delicious.
With the addition of chilli, spring onions, preserved turnips (Chai Po) and eggs, the fried carrot cake presents a plethora of flavour depending on whether it is prepared "black" or "white" style.
The black style is usually more finely chopped up with the addition of dark soya sauce/Chinese sweet sauce to produce a delicious, savoury, spicy and fragrant masterpiece.
Alternatively, the white style does not contain the sweet sauce, which makes it a lighter dish which is primarily savoury.
We advise you to try both styles to find out which is your favourite!
Our recommendation:
Carrot Cake
Location: 20 Kensington Park Road, Chomp Chomp Food Centre #01-36 Singapore 557269
Prawn Noodles
Yellow noodles are boiled in a rich, savoury stock prepared using prawn heads and pork bones.
The umami flavour from the prawns and pork bones are infused into the broth which is used for cooking the noodles, creating a dish with a strong character.
At the stall, you get the option of ordering it "dry" or "soup".
As the name suggests, "soup" means that the noodles and prawns are served with the broth itself like the typical soup noodles.
Alternatively, "dry" prawn noodles comprises noodles and prawns mixed with unique savoury sauces and the broth will be served in a separate bowl.
As the noodles are not placed within the soup, it is known as "dry", and you can find similar order styles for other noodle dishes found in Singapore namely; wanton noodles, fishball noodles, minced meat noodles, etc.
You can also select the type of noodles for the dish ranging from yellow noodles to various rice vermicelli types including "thick/thin bee hoon".
One of the best prawn noodles in Singapore can be found at Beach Road, so be sure to stop by when you are in town!
Our recommendation:
Beach Road Prawn Noodle House
Location: 370/372 E Coast Rd, Singapore 428981
Char Kway Teow
Literally translated into "stir-fried rice cake strips" and widely considered a national favourite locally.
Traditionally, flat rice noodles, vegetables, beansprouts, blood cockles, eggs and various sauces are stir-fried and mixed on a wok with immensely high heat.
The intense temperature generates "wok hei", is the smoky flavour imparted onto the food by a hot wok and is essential in Chinese cooking.
More luxurious versions of the dish may include fishcakes and prawns which impart additional umami flavours into the bowl.
While Char Kway Teow is delicious, it is sinful because of its high saturated fat content. In the past, this noodle dish served to provide an affordable and cheap way for labourers to obtain energy to sustain their lifestyle.
This dish is usually sold by the same hawker stores that sell Hokkien noodles or carrot cake, don't forget to check it out.
Our recommendation:
Meng Kee Fried Kway Teow
22A Havelock Rd, #01-07, Singapore 161022
Bak Kut Teh (Pork Bone Broth)
Directly translating into "Pork Bone Tea", this is a pork rib dish whereby the ribs are boiled in a peppery, spicy and herbal soup base.
Dark soya sauce with cut chillis is served as a dip for the pork ribs, creating a spicy, savoury and sweet combination that is sure to rile up your tastebuds.
In Singapore, the "white" and peppery version is favoured while you are most likely to find the "black" or herbal version in Malaysia.
Although the dish does not consist of any tea, tea is often drunk along with the peppery soup to aid in digestion.
Additionally, strips of fried dough known as "You Char Kway" can be dipped into the soup served and eaten similarly to garlic bread in mushroom soup.
HowtoSG recommends Song Fa Bak Kut Teh as the gold standard of this particular dish, with numerous chains found across Singapore.
Our recommendation:
Song Fa Bak Kut Teh
Location: 133 New Bridge Rd, #01-04, Singapore 059413
Not just five dishes
These are just the tip of the iceberg for the different types of food found in Singapore. We hope you have an excellent time in Singapore and fill your bellies with delicious local cuisine right here at the little red dot.
Related to Best Food in Singapore:
How To Download YouTube Videos (PC/iPhone/Android) – The Best Way